Can Edging Increase Semen Production?
Have you ever suddenly stopped stroking your cock while masturbating to keep yourself from erupting? Or maybe thought really, really hard about some really, really unsexy things to keep things going longer with your partner? Of course you have, every man does. There's nothing worse than getting all excited and aroused and ejaculating too soon. Just ask your girlfriend.
Trying to stop yourself from shooting your load right when you feel you're about to burst is called edging, or orgasm denial by the kinky types. Orgasm denial is pretty well-known in the S & M community, and with good reason. Keeping yourself on the edge and delaying your orgasm is a tantalizing experience in dominance and control over your own self.
But edgeplay is more than just a good time. Putting your PC muscles to work by edging several times a week can improve your stamina and increase semen volume, helping you come monstrous loads that squirt straight to the ceiling.
What is Edging?
Well first thing's first. What is edging, and how do you do it? Edging is all about slowing down the amount of time it takes you to come, with long, slow strokes up the shaft. Once you feel yourself teetering on the edge of an explosive orgasm, pull back your hand to the base of your shaft and stop stroking, while at the same time contracting your PC muscles.
Believe it or not, you can extend your pleasurable cock-teasing and orgasm-withholding for hours on end with time and practice. By the time you are ready to release, simply continue to masturbate as before, but do not contract your PC muscles, edging closer with every stroke, until you achieve your explosive finale.
Edging can be practiced alone during masturbation or with your partner during intercourse. When allowing your partner to push you to the edge, be vocal and let her know when you're at the cusp, so she can deny your orgasm as you clench your PC muscles.
Challenge yourself each time to hold off ejaculating a little longer than the time before. You'll be impressed by your progress.
Benefits of Edging
It goes without saying that the ladies are not impressed by a one minute man under the sheets. Edging can maximize your stamina and staying power for long-lasting sex sessions that are sure to make her sweat. And if that wasn't great enough on its own, just try and picture the shock on her face as you erupt an unending load of ejaculate all over her as you finally burst from orgasmic pleasure.
But overcoming premature ejaculation is not the only benefit from edging. Over time, edging can also enhance the size and hardness of your erection. It also improves the thickness and consistency of your semen, as well as the amount and shooting distance.
Increase Ejaculate by Edging
Increasing your ejaculate will not only make you better lover, but will ensure a long, pleasurable climax that both you and your partner will love. Combining edging through tantric masturbation with daily kegel exercises of your pelvic muscles is one of the safest, fastest ways to start increasing your semen load. Enjoy the pleasurable feeling of delaying your orgasm today by edging.
Learn how edging can be part of a regimen to increase semen production.
One-stop solutions to increase ejaculate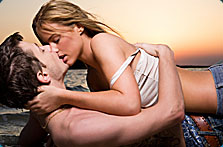 Ready to get started? You're in luck. The demand for bigger loads has led to the development of a number of different top-notch products that can help.
The only thing to slow you down is sorting out the best ejaculation boosters from the weaker products. We can help. Based on product research and analysis, along with reader-contributed polling, we've sorted the best from the rest. Check out the top recommended increase ejaculate products.
Read more