FertilAid Review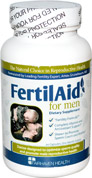 With so many male sexual performance enhancement supplements on the market, it is important that you do your research before you make your selection. FertilAid claims to increase semen production, and its primary focus is to increase the chance of getting your partner pregnant. To us at increasesemenproduction.org, we find this to be an extremely serious claim and so we wanted to provide a product review to determine if FertilAid's claims could be backed up with fact.
FertilAid Ingredients
Unfortunately, FertilAid's list of active ingredients for increasing sperm count and healthy sperm is backed up by only one specific key ingredient - the amino acid L-Carnitine. L-Carnitine is an amino acid that your body already produces. L-Carnitine is essential for many of your body's functions from improved blood circulation to treating high cholesterol. However, there is no support to suggest that L-Carnitine supports increased sperm production. L-Carnitine has been shown to treat male infertility, but only to address inflammation caused by some reproductive organs and tissues.
FertilAid also claims that it includes a number of antioxidants that assist with increased sperm production. Unfortunately, FertilAid's list of antioxidants reads like the label on a multivitamin that you can pick up for a fraction of the cost at any grocery store. Antioxidants may be important for sperm health and your overall general health, but antioxidants don't generally increase sperm counts or production.
FertilAid Benefits
FertilAid claims to increase sperm production. The data behind what they claim as their key ingredient does nothing to increase sperm production. L-Carnitine does have important functions within the body, and can assist with male impotence, but there is no evidence that it increases sperm count.
FertilAid also claims to address infertility problems in men by increasing sperm motility. Increased sperm motility (sperm's ability to swim) is an important component in fertility, but there are a multitude of issues and problems that can lead to infertility. It is advisable that you seek out a fertility doctor's professional advice to address this complex problem if you and your partner are having difficulty conceiving.
FertilAid Directions and Warning
FertilAid's directions for use are a concern. The label advises that a serving size is three capsules. There are 30 capsules in a container, but the website claims that one bottle will last for one month. Either way, FertilAid's potency and price are way out of line. By taking one capsule a day, you will get a fraction of what a good multivitamin will deliver at a higher price, or you can take the serving size of three pills a day and get the equivalent of a multivitamin at four or five times the price.
The good news is that you probably don't need to be concerned about ingesting too much of any of its list of products since a bowl of cereal probably packs the same potency.
One final warning: when navigating the website, the male and female FertilAid products are sold side-by-side. There is a concern that a customer ends up ordering the product for the other gender, so beware.
Does FertilAid work to increase ejaculation volume?
Based on the evidence, FertilAid does not increase ejaculation volume. The data provided by the manufacturer to the consumer is vague and incomplete, and it feels more like the makers of FertilAid are throwing around buzz words used by the supplement community to build up a product that is inferior to many others on the market.
FertilAid does provide links to a clinical study conducted to determine how effective FertilAid is with increasing sperm counts. The study does find that FertilAid may increase the number of motile sperm, but the study did not find that FertilAid was able to actually increase the total number of sperm produced.
FertilAid's primary ingredient of L-Carnitine does not increase sperm production. FertilAid's other ingredients are limited to your basic vitamins. A bag of cereal will provide you with about as many antioxidants as the serving size on the label of FertilAid at about 20% of the cost. If you want to be healthier, eat some Cheerios. If you want to increase your sperm production, this is not the product for you.
| | | | | |
| --- | --- | --- | --- | --- |
| Rank | Pic | Detailed Analysis | Rating | Website |
| 1 | | Learn More | | Extendagen |
| 2 | | Learn More | | Volume Pills |
| 3 | | Learn More | | Semenax |
| 4 | | Learn More | | Ogoplex |
| 5 | | Learn More | | Spermamax |
| 6 | | Learn More | | Spermomax |
| 7 | | Learn More | | Roplex |
| 8 | | Learn More | | FertilAid |
| 9 | | Learn More | | Ejaculoid |
| 10 | | Learn More | | Steel Libido |
| 11 | | Learn More | | Zenerx |
| 12 | | Learn More | | Irexis |