Spermamax Review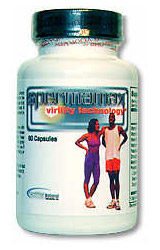 Spermamax is a product that claims to increase sperm volume, as well as the motility and overall health of sperm; it further says that this will, in addition, increase male virility. Unfortunately, Spermamax is missing an important point, which is that virility and fertility are not quite the same thing; if they were, the two words would be interchangeable, but they are not. Make no mistake, virility definitely does include procreation, but nowadays there are various aspects of sexual health and ability that help to define what is virile. Men who are on the hunt for increased virility and semen production are interested in products like Spermamax mainly for increasing semen production and ejaculation volume, to increase sexual enjoyment for themselves and their partners.
Spermamax Ingredients
While at first glance the ingredients in Spermamax look promising, reading the ingredients is like looking at a multivitamin supplement. And while vitamins and minerals do have a positive effect on overall health and should never be ignored, Spermamax is supposed to be used as a natural male enhancement product. The lack of any ingredients that have been shown to enhance semen production and ejaculate volume, like Catuaba bark, L-arginine, horny goat weed, or others, raises questions. While vitamins are nice, they are not ingredients intended to improve sexual health, increase stamina, energy, or semen production; there are a bare number of non-vitamin ingredients in Spermamax, and those, such as green tea, are more intended for vascular benefits. It is unclear why, with none of these proven ingredients, Spermamax claims to offer sexual benefits.
Spermamax Benefits
Spermamax says that it offers sexual benefits such as increased stamina and energy, increased semen production, and more intense, longer lasting orgasms. But what Spermamax claims and what their product can deliver are different stories. With no active ingredients that are intended to increase ejaculate volume, any effects of Spermamax are derived from the combination of vitamins and minerals used in the pills, which will help promote full body health. While overall health is an important factor in sexual performance, and thus Spermamax will have some benefit for sexual health and wellness, and enhance certain aspects, these same results could likely be achieved through a more stringent diet and exercise routine, or the use of a standard multivitamin.
Spermamax Directions and Warnings
Spermamax is an all-natural product, so there should be no complications or side effects associated with its use. Men using it should be careful to keep track of their vitamin load, due to the potential side effects of long-term vitamin E intake and possible vitamin E overdose. Men who wish to buy Spermamax can do so online; single bottles of Spermamax are sold for $60 plus the cost of shipping, while six bottles can be had for $260, a relatively modest $100 savings.
Does Spermamax work to increase ejaculation volume?
Unfortunately, Spermamax contains none of the ingredients that have been shown to be effective when it comes to increasing semen production. While Spermamax is a good collection of vitamins and minerals that would surely have an overall positive effect on men's health, it is not aimed at the particular needs of men interested in increasing the size of their loads. If you are interested in how well Spermamax stacks up against other male enhancement products, there is a comparison chart available here, but the list of ingredients, and more importantly, what ingredients aren't on it, is enough to show that Spermamax is ineffective for increasing semen production. A multivitamin that could be had more easily at any drug store or health food store would contain many of the ingredients in Spermamax, or could be had as part of a balanced diet.
| | | | | |
| --- | --- | --- | --- | --- |
| Rank | Pic | Detailed Analysis | Rating | Website |
| 1 | | Learn More | | Extendagen |
| 2 | | Learn More | | Volume Pills |
| 3 | | Learn More | | Semenax |
| 4 | | Learn More | | Ogoplex |
| 5 | | Learn More | | Spermamax |
| 6 | | Learn More | | Spermomax |
| 7 | | Learn More | | Roplex |
| 8 | | Learn More | | FertilAid |
| 9 | | Learn More | | Ejaculoid |
| 10 | | Learn More | | Steel Libido |
| 11 | | Learn More | | Zenerx |
| 12 | | Learn More | | Irexis |